17 MULTIPLATFORM VIDEO TECHNOLOGY VENDORS PROFILED

61 pages of analysis covering the challenges and opportunities associated with multiplatform video services, including the roles of content owners, service providers, and technology vendors

A detailed breakdown of the main technology elements required for multiplatform video distribution and the standards initiatives that may impact this market

Analysis of a proprietary Heavy Reading survey of service providers worldwide, analyzing their opinions and strategies for multiplatform video distribution

Detailed profiles of 17 vendors in the multiplatform video space, including traditional telecom vendors, specialized video equipment vendors, wireless media technology providers, and more



ADITYA KISHORE
Senior Analyst,
Heavy Reading
Leveraging his 15 years' experience in consumer media, Kishore covers digital media applications and services and their distribution over broadband networks...

More
To view reports you will need Adobe's Acrobat Reader. If you do not have it, it can be obtained for free at the Adobe web site.


Multiplatform Video: Overcoming Technology & Revenue Challenges
For some years now, service providers around the world have been offering bundled services to maximize return from network investments, add value to customer relationships, reduce churn, and generate incremental revenue. Bundling certainly adds value, but if service providers stop there, they are not fully exploiting the potential benefits available: The next stage is to integrate their services, offering customers a converged, seamless experience across device platforms. This will help to cocoon the consumer in the service provider's brand, add substantial value to the customer experience, and further insulate the service provider from subscriber losses.

In this context, video is a particularly important application. Unlike voice or Internet access, video delivery can be differentiated in several ways. Larger content libraries, better search and content discovery tools, more personalization, and interactive features could all help a service provider add value to a video service across all platforms. There is also the potential for new revenue generation through advertising, pay-per-view models, and higher service tiers. Cable operators, online video distributors, satellite operators, and even pure-play mobile operators are looking at ways to enable this seamless, unified experience across platforms.

Service providers see the value of multiplatform video. Heavy Reading's proprietary survey of 75 service providers worldwide found that 76.4 percent saw multiplatform video distribution as a critical component of their offering, as shown in the excerpt below.


However, delivering multiplatform video has its own challenges, requiring seamless coordination across different networks and device platforms. Each has different requirements: For example, mobile video can be delivered at a lower resolution than video to the PC, and certainly lower than TV-quality. Thus, the optimal technologies selected to support these services will have significant implications on costs, from bandwidth/distribution to video servers.

Each device platform will also have a discrete back-office suite, which will need to be integrated to offer a seamless end-user experience. Each platform may be associated with different digital rights management (DRM) solutions and video compression formats. A flexible, powerful content management system may become a requirement as the complexities and variables associated with delivering several different bitrates to a range of different devices become overwhelming.

Quite apart from the technology challenges, service providers must confront the various rights issues associated with video distribution on multiple platforms. Many service providers are approaching content owners with multiplatform deals, but legacy agreements may not include new platforms. In addition, cost-benefit analyses are difficult since revenue models are undefined. Today deployments are driven by a desire to add value to the bundle, but eventually costs will necessitate some kind of revenue model, which is still unclear.

Multiplatform Video: Overcoming Technology & Revenue Challenges examines the trend toward multiplatform distribution of video, the drivers for content owners and service providers to enter into this space, and the overall technology components required. It will also share findings from a proprietary survey of 75 service providers worldwide on service providers' attitudes and strategies for multiplatform video, released exclusively in this report. These results are compared to findings from a 2007 survey, to identify opinion shifts and emerging trends in this space.

DOWNLOAD TABLE OF CONTENTS
DOWNLOAD LIST OF FIGURES
PRINT EXECUTIVE SUMMARY

The report also includes in-depth profiles of 17 major vendors in the multiplatform video space, including traditional telecom vendors, specialized video equipment vendors, wireless media technology providers, and more.

For a list of companies analyzed in this report, click here.

Service providers see multiplatform video as an opportunity, with more than three out of every four respondents to our survey agreeing (or strongly agreeing) that it will be an important business requirement within the next five years. However, this is lower than in 2007, when more than 93 percent agreed with the same statement. Yet even with the relative declines, interest remains strong: In North America, nearly two thirds of respondents support multiplatform video deployments, and that rises to more than four out of every five in Asia and Europe. That is substantial support for any new application or technology.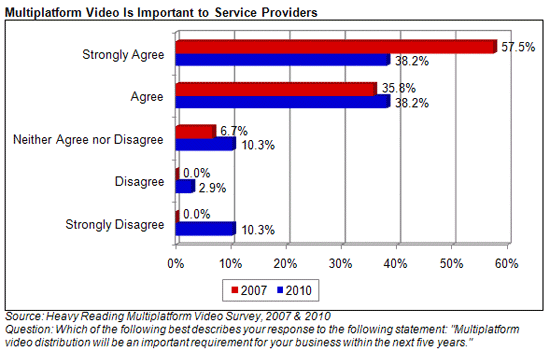 Report Scope and Structure

Multiplatform Video: Overcoming Technology & Revenue Challenges is structured as follows:

Section I includes a full executive summary and report key findings.

Section II examines the growth of video across all three device platforms, content owners' initiatives to directly distribute their content to multiple devices, and the rationale for service providers to deploy and monetize multiplatform video.

Section III examines the main technology elements required for multiplatform video distribution and looks at a selection of standards development initiatives that may have an impact on the development of multiplatform video.

Section IV provides an exclusive view of the findings of a proprietary Heavy Reading survey of service providers worldwide, analyzing their opinions and strategies for multiplatform video distribution. It also compares findings from the 2010 survey to earlier survey research from 2007, to identify opinion shifts and emerging trends in this space.

Section V reviews 17 major vendors in the multiplatform video space including traditional telecom vendors, specialized video equipment vendors, wireless media technology providers, and others. This section analyzes their flagship products and strategies, and evaluates their relative strengths and weaknesses in this space.

The report is essential reading for a wide range of industry participants, including the following:

Telecom service providers: How will the move toward multiplatform video distribution impact your network and business model going forward? What technology options are available to help evolve your existing video services toward the new, three-screen paradigm? Which revenue model(s) will enable you to capitalize on the multiplatform video opportunity? Which technology suppliers are in the best position to help prepare your network for the rigorous demands of multiplatform video distribution?
Telecom equipment vendors: How do your products and solutions stack up against those of your competitors in the multiplatform video sector? Is your current and anticipated product portfolio in line with service providers' need to offer diverse video channels beyond the TV? Which types of technologies are service providers most interested in for managing the complexity of three-screen video services? How are emerging technology standards likely to shape the multiplatform video marketplace over the near and long term?
Investors: How are evolving consumer habits and technology options shaping the multiplatform video marketplace of the future? Which members of the multiplatform video value chain – including service providers, content owners, and technology providers – will take the lead in shaping this growing market? How is the multiplatform model challenged by the complex regional arrangements and rights issues associated with video distribution? How will developing standards for multiplatform video influence winners and losers in this growing marketplace?
Multiplatform Video: Overcoming Technology & Revenue Challenges is published in PDF format.