35 LTE BACKHAUL EQUIPMENT PROVIDERS PROFILED

52 pages of analysis detailing the challenges of transitioning to packet backhaul and how the forthcoming deployment of LTE will impose a new set of requirements on backhaul.

Detailed case studies of leading cellular network operators looking to make the transition to LTE, including T-Mobile and Verizon Wireless.

In-depth analysis of the transition from a point-to-point, hierarchical 3G network architecture to a flat, many-to-many LTE network architecture, including potential changes in network security, network synchronization, and the distribution of functionality across the backhaul and core network domains.

Detailed profiles of 35 leading backhaul equipment providers, analyzing how they are both shaping this market and adapting to the evolving requirements of operators.



PATRICK DONEGAN
Senior Analyst,
Heavy Reading
Donegan has more than 20 years of experience as a telecom market journalist, analyst, and strategist. His in-depth knowledge of wireless technology...

More
To view reports you will need Adobe's Acrobat Reader. If you do not have it, it can be obtained for free at the Adobe web site.


Backhaul Evolution Strategies for LTE Operators
With TeliaSonera claiming the world's first live Long Term Evolution (LTE) network and Verizon Wireless planning the world's largest-scale LTE launch from the end of 2010, cellular network upgrades increasingly must be planned with a view to supporting LTE as well as current generations of 2G and 3G traffic. In the backhaul network, 2010 figures to be a big year for turning up packet backhaul to support growing volumes of 3G data traffic: According to the latest edition of Heavy Reading's Ethernet Backhaul Quarterly Market Tracker, about 182,000 cell sites worldwide will be served by packet backhaul by the end of the year, representing 7 percent of all the world's cell sites.

But just as operators are finally rolling out this capability to address what has long been branded the "backhaul bottleneck" in 3G, the likelihood that LTE will need to start to be deployed in the next one to three years is imposing a new set of requirements on backhaul evolution – one to which network operators now must pay very close attention.

There are two main schools of thought regarding the extent to which LTE will really change the backhaul requirements of mobile operators. The first – which could be called the "revolutionary" viewpoint – is that the transition from a point-to-point, hierarchical 3G network architecture to a flat, many-to-many LTE network architecture will create a profoundly different technology and operational environment for backhaul planners. If that view is correct, then many operators are unprepared to deal with such a radical change.

The contrary, "evolutionary" position holds that the transition to packet backhaul that is already underway to support 3G data traffic will provide a sufficiently flexible platform to enable graceful evolution of the backhaul network to support LTE as well as 2G and 3G traffic. In other words, whatever the operators have in place for 3G will be suitable for LTE, as well.

Backhaul Evolution Strategies for LTE Operators examines just how challenging the transition from 3G to LTE will really be from a backhaul perspective. It considers the merits of these apparently conflicting "revolutionary" and "evolutionary" perspectives in view of key factors such as the operator's installed base, its skill sets, and the speed at which it seeks to implement the full set of backhaul-impacting features in the LTE standards releases. Where possible, the report looks to reconcile these competing perspectives in the context of operators' different objectives and strategies; but it also identifies where the discontinuities are real. It identifies gaps in some operators' visibility of operational challenges and available skill sets for addressing them. And it provides guidance on how these issues can be managed with the least possible impact on the bottom line, looking at both capex and opex.

The report singles out several particularly challenging, high-profile aspects of the transition to LTE backhaul. It analyzes and differentiates those aspects that are inherent in the LTE standard from those that may be implied but are not mandatory in the LTE standard and those that have been gaining mindshare within the operator and vendor community. The scale of the challenge is influenced in significant part by basic building blocks, such as whether the LTE network will be built out using conventional macro-cellular architectures or newer, smaller cell sites, as well as the rate at which voice services will need to be supported.

The report considers these basic planning assumptions, as well as newer, technology-specific issues surrounding potential changes that need to be implemented in network security, network synchronization, and the distribution of functionality across the conventional backhaul and core network domains. It also provides guidance for vendors in terms of identifying the different levels of priority that are likely to be attached to specific features and capabilities associated with the LTE standard.

The information and analysis presented in this report is based on case studies of key cellular operators such as T-Mobile and Verizon Wireless, as well as detailed inputs from 35 leading backhaul equipment vendors, providing insight into how these players are preparing to support LTE in the backhaul network. The report profiles the leading technology providers, summarizing their products and solutions and evaluating their strategic strengths and weaknesses.

For a list of companies analyzed in this report, click here.

The limited progress made in the transition to packet backhaul for 2G and 3G traffic to date, and the platform that provides for backhaul evolution for LTE, is best seen in the context of different carrier approaches to evolving their network to all-IP. Broadly speaking, operators can adopt IP into their networks in one of two ways: tactically, one domain at a time; or across the network, as part of what is often termed an "IP transformation" strategy. The excerpt below shows how these strategies are employed by different types of operators, striking a balance between addressing near-term backhaul challenges (and cost concerns) and future-proofing the backhaul network for LTE.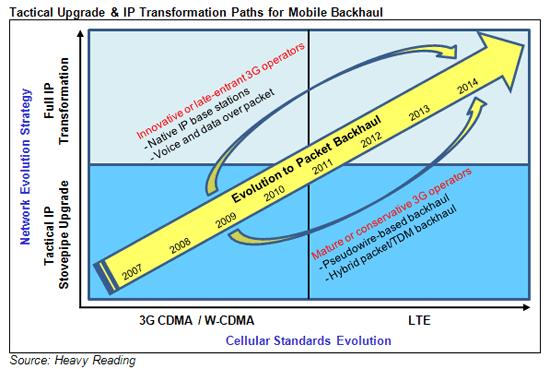 Report Scope and Structure

Backhaul Evolution Strategies for LTE Operators is structured as follows:

Section I includes a full executive summary and report key findings.

Section II provides a summary of the slow rate of progress in transitioning to packet backhaul among cellular operators throughout the world to date. It depicts deployments by architecture and by technology while also examining the reasons for the slow rate of adoption up until now.

Section III considers the upcoming challenges of the LTE architecture in the context of broader "IP transformation" strategies being implemented by carriers worldwide. It depicts the changes in the logical architecture from 3G to LTE, as well as the objectives driving those changes. It also addresses some of the background context against which operators are evolving their packet backhaul networks from being optimized for 3G to being optimized for 3G and LTE. The evolving nature of cell site planning, the role of voice services in LTE, and the support of transport features in the eNodeBs are considered.

Section IV analyzes the interface, topology, and protocol options for LTE backhaul. It weighs the options for operators in migrating from 3G's largely point-to-point backhaul connectivity model to LTE's many-to-many connectivity model. It examines operators' initial planning assumptions for the new S1 and X2 interfaces and scenarios in which the balance of traffic that flows across these interfaces could potentially change over time. It also describes the different choices that operators are making in terms of topology and supporting network protocols.

Section V considers the greater exposure of the LTE network to security breaches resulting from the new, flatter architecture. It explores options for mitigating the risk with tighter physical security as well as different implementation models associated with deploying IPsec in the backhaul.

Section VI looks at how the potential synchronization requirements change with LTE, depending on whether it is launched in TDD or FDD spectrum. Particular emphasis is placed on the challenges faced by operators deploying in FDD spectrum and picking a path through the variety of options available to them to support phase synchronization over time should they need to.

Section VII looks at the ways in which the implication of a "collapse" in the transport and core domains, as provided for by 3GPP, is likely to play out in the commercial environment. Drivers and barriers associated with operators implementing this approach are considered, along with a discussion of the most likely candidate features for distribution out from the core to the edge.

Section VIII profiles the LTE backhaul strategy of Verizon Wireless, which is likely to be the world's leader in rolling out LTE. The operator's approach to supporting all its 2G, 3G and upcoming LTE traffic across its new packet backhaul network are described together with specifics on how it plans to support features which are particularly to the LTE requirements.

Section IX provides short profiles of the primary vendors in the backhaul equipment space, how they are evolving their portfolios to meet the new LTE requirements, and what successes they are able to point to for the early phases of LTE rollout.

The report is essential reading for a wide range of industry participants, including the following:

Telecom service providers: How will the coming launch of LTE services impact your backhaul network? Is your network prepared to support the new features and performance levels that LTE will require? How can your company best position itself to support long-term requirements, while containing near-term costs? Does your company have the skill sets required to transition to an LTE-supporting all-IP backhaul network, or will you have to develop more IP-oriented personnel and operational processes?
Telecom equipment vendors: How do your products and solutions stack up against those of your competitors in the LTE backhaul space? Is your current and anticipated product portfolio in line with service providers' needs in transitioning to all-IP backhaul? Which topology, security, and network synchronization options are most likely to prevail among network operators, and is your company prepared to support the winners?
Investors: Which technology providers are best positioned to win business with operators as they transition their backhaul networks to LTE? How are equipment vendors evolving their portfolios to meet the new requirements of LTE technology? What can operators' current backhaul evolution plans – pursuing a full "bells and whistles" approach vs. a low-cost, "bare essentials" deployment – tell us about their future chances for success as LTE service providers? How will new requirements in network topology and performance influence winners and losers in this evolving market?
Backhaul Evolution Strategies for LTE Operators is published in PDF format.